Starting with Advent and going through Christmas and Epiphany, Tend and Feed asks us to take another look at some famous biblical stories, but this time to approach it from a different angle, as a disciple might. Jesus told his disciples to, "Tend and feed my sheep" (John 21:17) referring to God's people. We are all God's creation, no matter what walk of life we may follow. The sermons in Tend and Feed remind us to look for those that we can help every day, as the disciples would.
This book is a useful tool for sermons and teaching classes, as it retells Bible stories from the perspective of a first-century bystander. This alternate viewpoint makes for an enlightening lesson that sticks with the listeners.
What does it mean to be an ambassador of Christ? This is the question that John Jamison asks throughout this Lenten season. During this time where we remember Jesus' final weeks and actions before his death and resurrection, we must ask ourselves how we can live more like Jesus did, and how we are showing God's presence to the world? Jamison uses a unique mix of historical fact and modern examples throughout his sermons to show his congregation the many ways that the disciples had lived in Jesus' example, and how we can do the same. Although we all have those days where we may not act in a way that is befitting of Jesus, Jamison reminds us that there are no requirements for who can be saved by God's love, for he sent his son to die for all people. So, do what you can today, and do your best to help others using the gifts that God has given you. Remember that nobody is without God's grace, and that you should love others as you are loved by your Father in heaven.
My goal is to continue to try and better understand just what my faith is calling me to do and be. I know my faith is calling me to do and be. I know my faith calls me to be different, but how? Different from what? The messages in this book are some of my attempts to understand that call to difference. My hope is that these story-sermons might give you something to work with, to adapt and present as you continue to tell the most important story.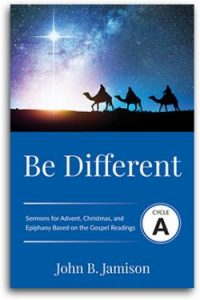 Sometimes in our zeal to proclaim God's message of truth and redemption, we over-complicate it. As pastors, we sometimes believe that the greatest message is
delivered in carefully planned sermons, with every nuance explained and every chapter and verse deconstructed. But what if we let the stories of Jesus speak for themselves?
Author and storyteller John B. Jamison asked himself this question, and it didn't take long for him to discover that when he simply stepped back and got out of the way, his preaching began to change. In Simple Faith?, Jamison takes us through Jesus' journey to the cross, but rather than following the traditional sermon structure, he invites us to pull up a chair and listen, to imagine with him those days when Jesus walked the earth and ushered in the kingdom of heaven.
As Jamison seeks to revive the imaginations of congregations, he encourages pastors to use this resource as a tool for inspiration. The seventeen Lent/Easter, Cycle B, sermons included in this book, Jamison believes, hold powerful plots and themes that will transform in today's world as boldly as they did in ancient days.
Jamison's humble approach to storytelling makes this an accessible resource to not only pastors, but also to those seeking group studies, private devotionals, and a renewed understanding of the gospel text.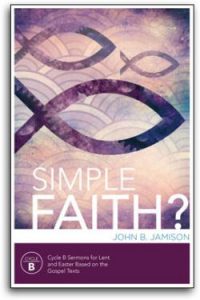 Loving people and caring for them isn't enough to change the way the world works overnight…. Our caring isn't enough
to change all "bad" into "good." But it is all we are asked to do. And it is enough. (from the sermon ""Enough"")
The 17 sermons in this book are based on Gospel texts from Matthew. Sermons follow the Revised Common, Lutheran, and Roman Catholic lectionaries.
"What happens when God's people gather together and hear God's word can happen no place else! Lives are changed. They are made whole, unbroken and hopeful. That is, and must be our task."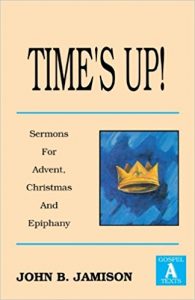 Sermons on the Second Readings
John T. Ball, Richard Gribble, John B. Jamison, Clayton A. Lord, Jr., Donna Schaper
Paul and the other writers of the epistles were entrepreneurs for early Christianity — and not only did they tirelessly spread the good news, but their pastoral letters are also a marvelous guidebook full of practical wisdom. Because their writers were called on to assist the early faith communities in coping with a variety of problems, the New Testament epistles are chock-full of timeless lessons on living the Christian faith. In this extensive anthology of enlightening sermons based on the Second Readings from Cycle C of the Revised Common Lectionary, five eminent preachers from diverse denominations apply the nourishing teachings of the epistles to today's complex challenges. With messages included for every Sunday and major celebration throughout the entire church year, there's a wealth of ideas and illustrative stories helpful for preaching, teaching, and meditation. These biblically grounded sermons shine the light of Christ on our often confusing world and proclaim the richness of God's truth, offering readers comfort and hope while challenging them to a more intense faith relationship with the almighty.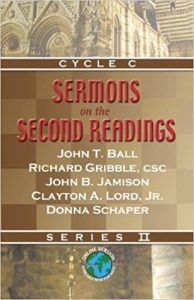 Teaching and Learning in Virtual Environments: Archives, Museums, and Libraries
Chapter 9: Learning In Three Dimensions: From "Pretty" to "Participation"
TranceFormational Learning was not created because educators were doing something wrong in how they were designing 3D learning activities, but was offered so they could possibly do more. Although there has been ongoing agreement that creating more engaging learning activities in 3D space was possible, there was no specific solution as to how that design could be done. TranceFormational Learning was created to offer that solution.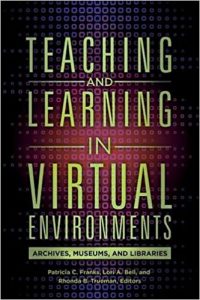 Join our community list?
We will NOT spam you, but will send an occasional news-letter and other updates about what is happening at johnbjamison.com
Thank You!